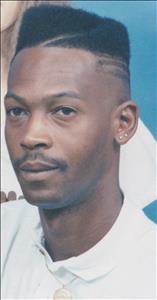 William Demorris Starr
March, 08 1966 ~ November, 10 2017 | 51
William "Will" D. Starr, 51, passed away on Friday, November 10, 2017 at CaroMont Regional Medical Center in Gastonia.
The funeral will be at 3:00 PM on Saturday, November 18, 2017 at Mount Carmel Holiness Church of God in Clover, with quiet time starting at 2:30 PM. Burial will be held at Clover Community Cemetery.
Will was a son of Willie Starr and Shirley Mackins Starr. He was a graduate of Clover High School and was a machinist.
In addition to his parents, Will is survived by his children, Erica Starr, William D. Starr, Jr., Brittany Massey Starr, Dominique Starr, Elizabeth Brown Schnuder, sisters, Sharon Peay (James), Shelisa Lytle (Andre), DeAngela Starr, brother, Vince Starr, four grandchildren, and numerous nieces and nephews.
Online condolences may be made to the family at www.brattonfuneralhome.com.
Bratton Funeral Home in York is serving the Starr family.
Cemetery
---
Clover Community Cemetery
Condolences for the Family of William Starr
---