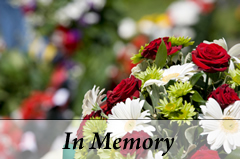 Obituary Notice
Charles Brakefield
CLOVER -- Charles Everett Brakefield, 76, of 2200 Meadow Road died Friday, October 25, 2013, in York.
The funeral will be at 2:00 P.M. on Monday, October 28, 2013 at Bratton Funeral Home with the Rev. Bruce Kiser officiating. Burial will be at Lakeview Memory Gardens. The family will receive friends on Sunday, October 27, 2013 from 2 - 4 PM at Bratton Funeral Home.
Charles was a son of the late Clarence Walker Brakefield and Nora Rochester Brakefield. He was the widower of Darlene Brindle Brakefield. He was retired from the school bus mantainence shop in York and was a former owner of the Chevron Gas Station in York. .
He is survived by son Mike Brakefield (Rita Fay) of York, SC, daughter Rita Gay Hardin of York, brother Howard Brakefield of York, 3 grandchildren, and 5 great grandchildren.
Online condolences may be made to the family at www.brattonfuneralhome.com.
Bratton Funeral Home in York is serving the Brakefield family.