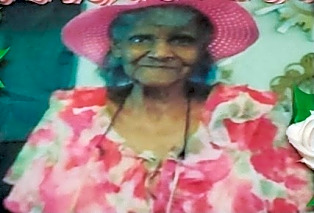 Willie Lee Garnes
August 12, 1931 ~ April 21, 2021 | 89
Willie Garnes
At the blessed and highly favored age of 89, on Wednesday April 21, 2021 Willie Lee Garnes of Clarksville, Texas boarded a first-class flight and took her seat on a one-way ticket to her heavenly home. Willie Lee Garnes made her transition from labor to reward at Paris Regional Medical Center.
The Family of Mrs. Garnes will lay their Queen to rest and bid farewell to their Family Matriarch on Saturday May 1, 2021 at 1:00 p.m. at Citizens Funeral Home 500 E. Church Street in Clarksville, Texas. Reverend Charles Dickson of Slate Rock Baptist Church will be officiating the service. Interment will be in Shawnee Baptist Church Cemetery in, Boxelder, TX under the direction of Citizens Funeral Home.

Viewing will be Friday from 4:00 p.m. to 6:00 p.m. in Citizens Funeral Home chapel.

Please wear a mask for protection

Condolences may be made at www.citizensfuneralhome.com
Please wear a mask for protection

Willie Lee Booker-Garnes was born August 12, 1931 in Annona, Texas to Isaac and Bertha Booker. She had only one sibling, a sister Lucy Booker-Craddock. Willie Lee accepted the Lord as her Savior at an early age and grew up as a humble servant in Shawnee Baptist Church in Boxelder, Texas where her father served as a Deacon and her mother as a Deaconess.
She met her husband Roosevelt Garnes while growing up in Red River County. During their youthful years, Roosevelt swept Willie Lee off her feet and the young couple united in marriage at the County Courthouse in Clarksville, Texas on June 10, 1950. She was eighteen and Roosevelt was twenty-three. The devoted, wife, mother and homemaker reared eleven beautiful children. Wille and Roosevelt were happily married for 49 years, 2 months and 3 weeks until the Lord called her beloved husband home from "labor to reward" to be with their four children, Terry Joe, Michael Ray, Rena and Patricia.
Willie Lee was a member of St. James Baptist Church in Clarksville, Texas. However, she frequently visited her childhood church Shawnee Baptist Church. Her ministry was her family, whom she enjoyed spending time with. She also enjoyed reading her bible, collecting antiques, caring for her plants, and ministering to those in need.
Although Willie Lee had to mourn the loss of her husband, mother, father, only sibling and four of her children; her faith in the Lord never waivered. It is only befitting that her favorite scripture is Psalm 23. She always held onto "God's unchanging hand."
Willie was blessed to witness four generations of her and Roosevelt offspring. If you were to ask her family, what kind of woman she is, they would simply tell you, read Proverbs 31: 10-31, for Wille Lee aka "Ma" is and always will be a blessed, highly favored and virtuous woman in the Lord.
She is survived by four daughters: Linda Dorsey, Diane Fulbright, Cynthia (John) Simmons of Clarksville, TX and Rosie Brooks of Paris, TX and her three sons Bobby (Robin) Garnes of Virginia Beach, VA; Steve (Julia) Garnes and Roosevelt (June) Garnes of Clarksville, Texas. She raised grand-daughters LaQuinnda and Shantessa Garnes as her own after the passing of their mother Patricia in 1991.
Willie Lee is also survived by 23 grandchildren, 15 great-grandchildren and 39 great-great grandchildren and a host of nieces and nephews.
Cemetery
Shawnee Cemetery, Boxelder, TX
Condolences for the Family of Willie Garnes
---
| | |
| --- | --- |
| 113 | Days until next birthday (8/12/2021 or 12/8/2021) |
| 252 | Days since previous birthday (8/12/2020 or 12/8/2020) |
| 111 | Day of the year passed on |
| 254 | Remaining days in the year |
| 66 | 4/21/2021 (4 + 21 + 20 + 21) |
| 89 | Years lived |
| 32760 | Total days lived |