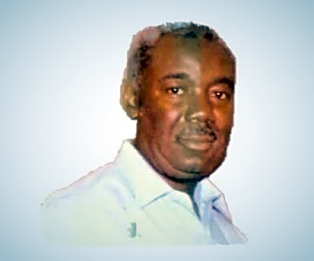 Walter Drayton, Sr.
March 04, 1930 ~ May 17, 2020 | 90
Walter Drayton, Sr.
Funeral services for Mr. Walter Drayton, Sr., of Dublin, will be held on Saturday, May 23, 2020, at 11 AM at the graveside at the Dudley Memorial Cemetery on East Mary Street in Dublin. Reverend Dr. Frederick Williams, Sr., will deliver the eulogy.

Mr. Walter Drayton Sr., was born on March 4, 1930, in Beaufort, South Carolina, as the son of the late Elsie Drayton, and Louis Drayton, Sr., He was a beloved husband, father, and friend who loved music, especially jazz. He enjoyed watching basketball, boxing, mixed martial arts and westerns. He served in the United States Army. Mr. Drayton worked for the New York Metropolitan Transportation Authority (MTA) for twenty-four years, starting as a porter, and retired as a motorman. During his career as a MTA worker, he saved a man's life and received accolades from Senator Shirley Chisholm, and his community,and was a member of the New York Hispanic Society. At the time of his death, he was enjoying a restful retirement serving his church and community. He was also preceded in death by four sons, Walter Drayton, Jr., Allen Drayton, Alexander Drayton, and Frankie Drayton. Mr. Drayton passed away on May 17, 2020.

He is survived by his beloved wife, Margarette Drayton, ex-wife, Rosalee Whibbee, three daughters, Beverly Drayton of Plainfield, New Jersey, Jennie Moye of Bronx, New York, Indria Drayton of Bronx, New York, a sister, Rivanna Johnson, three sons, Daryel (Zenna) Miller of Fort Mill, South Carolina, Wayne (Valerie) Miller of Bronx, New York, and Weldon Brown of Jacksonville, Florida, a sister-in-law, Shirley (James) Massenburg of Knightsville, North Carolina, a brother-in-law, Richard (Christine) Baker of Dublin, Georgia, and two special friends, Herschel O'Neal, and Jimmy Tiggs, along with a host of grandchildren, great-grandchildren, great-great-grandchildren, nieces, nephews, and cousins.

Please post condolences at ServicesbyDudley.com
Services by Dudley Funeral Home of Dublin
Cemetery
Dudley Memorial Cemetery, East Mary Street, Dublin, Georgia
Condolences for the Family of Walter Drayton, Sr.
---
| | |
| --- | --- |
| 291 | Days until next birthday (3/4/2021 or 4/3/2021) |
| 74 | Days since previous birthday (3/4/2020 or 4/3/2020) |
| 138 | Day of the year passed on |
| 228 | Remaining days in the year |
| 62 | 5/17/2020 (5 + 17 + 20 + 20) |
| 90 | Years lived |
| 32947 | Total days lived |