---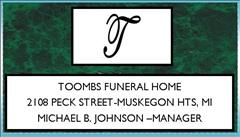 Toombs Funeral Home has become a well respected beacon in the community. A tradition of dignity and quality service to the residents of the Muskegon area. This solid, family oriented business has endured the test of time and has prominently established itself as one of the leading funeral homes in the State of Michigan. Toombs Funeral Home is recognized for quality, affordability, trust, dependability and warmth. It is a feeling of peace that surrounds you when you enter the doors of this caring business. The owner and staff have allowed God to use their academic knowledge, training, gifts and skills to help soften the traumatic experiences of loved ones gone home.


Added by: Toombs Funeral Home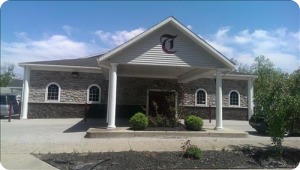 ---
A funeral can be one of the most expensive purchases one may ever have to make. Having little to no knowledge of the industry, coupled with the added time pressure and emotional duress a person could easily be fooled and taken advantage of. Toombs Funeral Home must comply with the "Funeral Rule" or face the possibility of federal trade commission complaints being filed.

The "funeral rule" was enacted in 1984 and is designed to ensure that all funeral homes including Toombs Funeral Home provides consumers adequate information with regards to the products and services they are charged for.

As part of the "Funeral Rule", Toombs Funeral Home will provide you with a General Price List (GPL) that includes but not limited to, the expenses of funeral service items such as transportation to the cemetery and viewing or visitation services.

A general price list is available free of charge to any person who inquires in person at Toombs Funeral Home about funeral arrangements, regardless of their intent to purchase funeral services or not.
~ The Funeral Rule
---
Browse and order fresh flowers on-line and have them delivered to Toombs Funeral Home the same day!
Some restrictions apply.
Flowers can usually be delivered to Toombs Funeral Home about 4 hours after the order has been placed.

Browse Flower Options
---
Questions such as "Which of the rituals should I attend?", "When should I visit?", "What should I say, or not say", "Do I make a phone call?",
are common questions for most Family and Friends during this time.

Understanding terms such as "Funeral Service", "Private Service" or "Memorial Service" can be confusing as well.

"Who creates the Eulogy?", "What is an appropriate dress code?", "Can I, or should I bring my Children?" are common questions as well.
Contact Toombs Funeral Home in Muskegon Heights, MI to help answer these questions. You may also find that on-line funeral resources can be helpful as well.