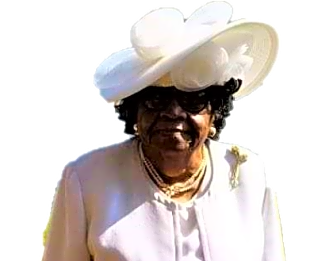 Rotha Mae Minter
September 30, 1921 ~ July 28, 2019 | 97
Rotha Minter
Funeral services for Mrs. Rotha Mae Hill Minter, of Rentz, Georgia, will be held at 1 PM on Saturday, August 10, 2019, at the First African Baptist Church, 405 Telfair Street in Dublin. Reverend Ellis Carswell will deliver the eulogy. Interment will follow at 1 PM on Monday, August 12, at the Mount Zion Baptist Church Cemetery in Buena Vista, Georgia.

Rotha Mae Hill Minter was born on September 30, 1921, to the late Demp and Mary L. Hill in Buena Vista, Georgia. Mrs. Minter's Christian life was defined in early childhood as she grew up in the Buena Vista community in Putnam County, Georgia. Buena Vista was also the city where she received her education and met C.W., the love of her life. Upon the approval of her grandmother, she and C.W. married on September 4, 1938, and to this union, six children were born.

Shortly after their marriage, Mrs. Minter and her family relocated to the Seminola neighborhood in Hialeah, Florida, where her late husband had begun working for Pan American World Airways. As she settled in South Florida, her main focus was raising her children and making her a comfortable and loving home. Proverbs 31: 27-28 (NIV) states "She watches over the affairs of her household and does not eat the bread of idleness. Her children arise and call her blessed; her husband also, and he praises her." After spending 31 years in years in Hialeah, the family moved to Carol City, Florida, where they remained in the same house for 37 years.

While in Florida, Mrs. Minter joined, with her late husband, New Mount Zion Baptist Church, under the leaderships of Reverend W.M. Mason, Reverend R.C. Solomon, and Reverend E. Grace. She served faithfully as the Chairperson of the Deaconess Board, Chairperson of the Pastor's Aid Board, usher board member, and President of the Junior Choir, and member of the Grace Special Choir. Rotha Mae and C.W. ultimately transitioned their membership to Peaceful Zion Missionary Baptist Church, under the leadership of Reverend Dr. C.P. Preston. There she served on the Deaconess Board, Choir #1, and the Voices of Zion.

Rotha Mae and C.W.'s desires in their senior years were to eventually move back to Georgia, where the pace of living life was a little more peaceful. Therefore, in 2007, they moved to Rentz community near Dublin, Georgia, where they joined Central Baptist Church of Dublin. Under the leadership of Reverend Ellis Carswell, Mrs. Minter served as the Chairperson of the Missionary Department. During their time in Georgia, Rotha Mae and C.W. were featured in several news articles relating to long life and a long marriage. When asked: "What is the secret?", they responded: "Love and the Grace of God." Also, in 2011, Mrs. Minter, in recognition as a Pioneer of and contributions to the city of Hialeah, Florida, she received a special award from the Mayor of the City of Hialeah.

On July 28th, at 11:50 A.M., God called Rotha Mae Minter home to eternal rest. She was preceded in death by her loving and honorable husband, Deacon C.W. Minter, by her eldest child, James E. Minter, and by three siblings, Thelma Hill, Robert D. Hill and Welton Hill.

Those left to cherish Mrs. Minter's memory and continue her legacy are her five children, Marvin (Estella) of Miami, Florida, Howard of Miami, Florida, Rose Marie of Rentz, Georgia, Mary Ann of Miami, Florida, and Karen Lynn (Lou Allen) of Warner Robbins, Georgia, 3 brothers-in law, Milton (Irene), Clarence (Marjorie), and Willie (Louise), all from Buena Vista, Georgia, two sisters-in-law, Carol Ridgeway and Sarah Roberts, both of Miami, Florida, seventeen grandchildren (one deceased); thirty-three great-grandchildren, twenty-three great-great-grandchildren, special caregivers, her baby girl, Karen Lynn (Baba) and Ms. Wealtha Taylor (whose services were for only a short time, but Mrs. Minter grew to adore her as family), a host of other family members and close friends.

The family will receive friends at 912 Circle Drive in Rentz, and at 6 PM on Friday, August 9, at Central Baptist Church, 706 Hayes Street in Dublin. Please post condolences at ServicesByDudley.com.

Services by Dudley Funeral Home of Dublin.
Cemetery
Mount Zion Primitive Baptist Church, Mount Zion Road, Buena VIsta, Georgia
Condolences for the Family of Rotha Minter
---
| | |
| --- | --- |
| 64 | Days until next birthday (9/30/2019 or 30/9/2019) |
| 301 | Days since previous birthday (9/30/2018 or 30/9/2018) |
| 209 | Day of the year passed on |
| 156 | Remaining days in the year |
| 74 | 7/28/2019 (7 + 28 + 20 + 19) |
| 97 | Years lived |
| 35730 | Total days lived |