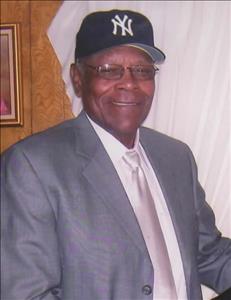 Joe Louis Shavers
February, 29 1936 ~ November, 05 2017 | 81
Funeral Service for 81 year old, Mr. Joe L. Shavers of New Boston, TX formerly of Annona, TX who went to be with his Lord November 5, 2017 in New Boston, TX, will be Friday, November 10, 2017 at 11:00 a.m. at Prosperity Baptist Church, New Boston, TX with Rev. David Hood pastor & eulogist. Interment: Chapelwood Memorial Garden, Texarkana, TX
Under the direction of by Citizens Funeral Home, 500 E. Church St, Clarksville, TX. Condolences may be made at www.citizensfuneralhome.com.

Deacon Joe Louis Shavers was born February 29, 1936 in Annona, Texas to the late Monroe and Ethel Mae English Shavers. He was the oldest son of fourteen children. He made his heavenly transition on Sunday, November 5, 2017.
As a young boy Joe accepted Christ any an early age and united with the Rock of Ages Baptist Church in Annona, TX. After relocating to New Boston, TX, he joined Prosperity Baptist Church. Deacon Shavers serves as vice chairman of the Deacon board for twenty years.
On February 2,1960 he married Nellie Joyce Farris. They were married for 57 years.
He served proudly in the United States Nave and later joined and retired from the United States Army Reserve and Red River Army Depot after serving over forty years.
He was preceded in death by his parents; brothers-James Monroe Shavers, Bill Sam shavers, Booker T. Shavers, Charlie Martin Shavers and Dan Shavers; Sisters-Gayle Shavers, Peggy Shavers and Nan Shavers.

To cherish his memories:
Wife: Nellie Shavers, New Boston, TX
Daughters: Cynthia (Elvis) Douglas, Arlington, TX
Teresa (Sterling) Dockins, Clarksville, TX
Phyllis (Melvin) Jones, Shreveport, LA
Tracie Shavers, Houston, TX
Tyler Shavers, New Boston, TX
Sisters: Mae Francis Wooten, San Bernardino, CA
Leona (Cecil) King, Bossier City, LA
Sandra (Leon) Hobbs, Mesquite, TX
Gloria (Itolia) Norman, Katy, TX
Brothers: Alvin (Gloria) Shavers, Texarkana, TX
Edward (Zora) Shavers, Annona, TX
Brother-In-law: Tully Farris
Sisters-in-law Annie Shavers-Smith, Theressa Shavers, Flora Spivey, Clara Montgomery
Host of nieces, nephews, and other relatives and friends.


.
Cemetery
---
Chapelwood Memorial Garden, Texarkana, TX
Condolences for the Family of Joe Shavers
---