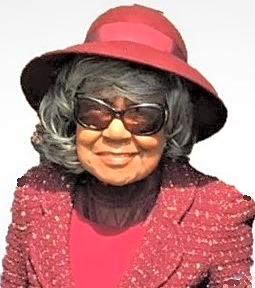 Jereline Morman White
December 19, 1930 ~ May 30, 2019 | 88
Jereline White
Funeral services for Mrs. Jereline Morman White, formerly of Astoria, New York, will be held on Saturday, June 15, 2019, at 11 AM, in the C. D. Memorial Chapel at the Dudley Funeral Home. Reverend Kenneth Kates will deliver the eulogy. Interment will follow in the Dudley Memorial Cemetery.

Mrs. Jereline Morman White, a native of Dublin, was born on December 19, 1930, as the second of six, and the last survivor, of the children, of her beloved parents, the late Icie Mae Harvey Morman and the late Ezell Morman.

As was the case with many of her generation, she journeyed north in search of a better life in New York City. Having worked a variety of initial jobs during those early years, she eventually became a librarian with the New York City Public Library System, retiring in 2007. She had a passion for reading and absolutely loved learning new things and for inspiring the children of the library to also develop a passion for learning. Even in her latter years, she would meet adults who had been touched by her enthusiasm for research, reading, and simply talking to all. She was affectionately named "motor mouth" by her grandfather, Pastor J. W. Harvey from Alamo, Georgia.

She was a lady of elegance, style, fashion, and grace and loved looking her very best at all times. Additionally she also loved her mother dearly and did her utmost to assist in caring for her needs. She truly believed her mother's admonition from Exodus 20:12 to "Honor your father and your mother, that your days may be prolonged in the land which the Lord your God gives you."

Over these last few years, Mrs. White has resided at the Presbyterian Village Retirement Community where she was cherished, well-cared-for, and honored as "Mother White" by the wonderful staff and care givers. Mrs. White passed away peacefully on May 30, 2019, after suffering the effects of a stroke that occurred on April 24, 2019.

Mrs. White was preceded in death by her beloved husband, Mr. Alvin White, as well as by her daughters, Valerie Herring and Vernesta James, and by her siblings, Wille Morman, Ethelene Morman Kitchens, Classie Morman Roberson, Ulysses Morman and Artis Morman. She is survived by her son, Paul Wise of New York, her grandchildren, Donne'a Trevor Morman of Tavares, Florida, Kenya "Peaches" Herring of Worchester, Massachusetts, Shawon Corley of Greenbelt, Maryland, and Alesha James of Virginia, her great-grandchildren, Ciara Morman, Naijshea Valerie Morman, Zeriaya Valerie Herring, Dashawn Leon Robinson, Mariah Corley, and Maya Haua Corley, two sisters-in-law, Jean Morman and Lillian Sanders Morman, her nieces and nephews, Jacqueline Cauthen, Jasmine Baker, Robert Kelsey, Steven Kelsey, Debra Davis, Linda Roberson, Zelda Kitchens Carter, Cyrl Kitchens, Marc Morman, Wyndel Morman, and Roderic Morman. Additionally, she is survived by a multitude of relatives and extended family, including the family of Annie Mae Kates in Dublin, and the Harvey family of Alamo, Georgia.

Please post condolences at ServicesByDudley.com.
Services by Dudley Funeral Home of Dublin.
Cemetery
Dudley Memorial Cemetery, East Mary Street, Dublin, Georgia - SECTION A - Front Gate Left
Condolences for the Family of Jereline White
---
| | |
| --- | --- |
| 203 | Days until next birthday (12/19/2019 or 19/12/2019) |
| 162 | Days since previous birthday (12/19/2018 or 19/12/2018) |
| 150 | Day of the year passed on |
| 215 | Remaining days in the year |
| 74 | 5/30/2019 (5 + 30 + 20 + 19) |
| 88 | Years lived |
| 32304 | Total days lived |