Hamilton-Burch Funeral Home
Phone: (478) 374-3160
---
Same-day delivery
available for Hamilton-Burch Funeral Home
Hamilton-Burch Funeral Home Obituaries
---
Hamilton-Burch Funeral Home
---
Hamilton-Burch Funeral Home is a family owned business. We have served the community for over 50 years. Our motto is, and will continue to be "Funeral Service with the Personal Touch."
Added by: Hamilton-Burch Funeral Home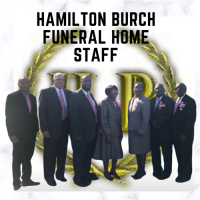 The Funeral Rule
---
A funeral can be one of the most expensive and difficult purchases one may ever have to make. Having little to no knowledge of the industry, coupled with the added time pressure and emotional duress a person could easily be fooled and taken advantage of.
Hamilton-Burch Funeral Home is required to comply with the "Funeral Rule", or face the possibility of federal trade commission complaints being filed.
The FTC "Funeral Rule" was enacted in 1984 and is designed to ensure that all funeral homes including Hamilton-Burch Funeral Home provide consumers adequate information with regards to the products and services they are charged for, including obtaining price information on the telephone.
As part of the "Funeral Rule", Hamilton-Burch Funeral Home will provide anyone who asks with a General Price List (GPL) that includes but not limited to, the expenses of funeral service items such as transportation to the cemetery near or around Dodge county, and viewing or visitation services.
A general price list is available free of charge to any person who inquires in person at Hamilton-Burch Funeral Home 140 Park Street Eastman, Georgia about funeral arrangements, regardless of their intent to purchase funeral services or not.