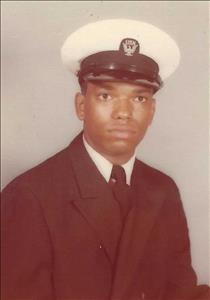 Donald Peterson Anderson
January 07, 1959 ~ March 12, 2019 | 60
Donald Anderson
Funeral services for Mr. Donald "Duck" Peterson Anderson, of Dublin, will be held on Saturday, March 16, 2019, at 11 AM at the C. D. Dudley Memorial Chapel at the Dudley Funeral Home. Reverend Kenneth Kates, Sr. will deliver the eulogy. Interment will follow in the Dudley Memorial Cemetery.

Mr. Donald Peterson Anderson was born on January 7, 1959, in Dublin, Georgia, loving son of the late Tommie and Rosetta Anderson. "Duck" was a man of great wisdom and knowledge. He was loved by many and known to uphold honor and truth in everything he did. During his early years, he was a member of the Green Grove Baptist Church. After graduating from Dublin High School in 1977, he served in the United States Navy for four years. Once he returned, he obtained his associates degree in Journalism from the Atlanta Area Technical College, and shortly thereafter, he continued his studies at Georgia State University, obtaining a bachelor's degree in 1984. Naturally gifted with words, Mr. Anderson entered the workforce, and was employed at the finance department at the Piedmont Hospital in Atlanta, where he managed the company's budget. Later, he was employed at the Internal Revenue Service as an instructor in the Wage and Investment Department. Once his mother became ill, Mr. Anderson decided to leave the work force and returned to care for her. During his later years, he devoted most of his time to his writing. Driven by truth, honor, and knowledge, he never stopped learning. He passed away on March 12, 2019.

He leaves behind to cherish his memories, laughter, and writings, five siblings and a sister-in-law, Lonnie (Mary) Thompson of Germany, Pat Anderson of Dublin, Lora Anderson of Dublin, Tommie (Betty) Anderson, Jr. of Dublin, Lynn (James) Goodson, and Margaret Collins of Atlanta, and a host of nieces, nephews, other relatives, and friends.

The family is receiving friends at 508 Marcus Street in Dublin.

Please post condolences at www.ServicesbyDudley.com

Services by Dudley Funeral Home of Dublin.
Cemetery
Dudley Memorial Cemetery, East Mary Street, Dublin, Georgia
Condolences for the Family of Donald Anderson
---
| | |
| --- | --- |
| 301 | Days until next birthday (1/7/2020 or 7/1/2020) |
| 64 | Days since previous birthday (1/7/2019 or 7/1/2019) |
| 71 | Day of the year passed on |
| 294 | Remaining days in the year |
| 54 | 3/12/2019 (3 + 12 + 20 + 19) |
| 60 | Years lived |
| 21979 | Total days lived |