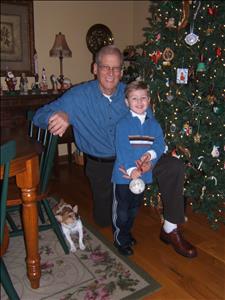 Daniel Wilson Still
March 31, 1941 ~ November 23, 2018 | 77
Daniel Wilson Still
Self Employed

Early County native Daniel Wilson Still of Austell, GA died peacefully on Friday, November 23, 2018 at Tranquility Hospice at Kennesaw Mountain, Marietta, GA.

He was the third of six children born to Martin Wilson Still and Miriam Bernice Mosely Still. He arrived March 31, 1941, in the comfort of his family's farmhouse in the community of Lucile, 10 miles south of Blakely.

Mr. Still was owner and general manager of ReCap Commercial Corporation, a property maintenance specialty company in the commercial real estate industry. He was a member of Mount Paran Church of God in Atlanta, GA.

He loved and was dedicated to his family. In addition to his parents, he was preceded in death by his wife, Laura Hess Still, a native of Mobile, AL. He was also preceded in death by his brother-in-law, Julius Charles Jones of Blakely.

Surviving Mr. Still are his devoted children who brought him great joy: Daughter, Alesha Still McCauley and husband, Terry McCauley and their son, Blake Alexander McCauley; Son, Bradley Wilson Still and wife, Suzette Scoggins Still, all of North Carolina; Stepson, Judson Blane of Los Angeles, CA.

Mr. Still is also survived by loving brothers and sisters: David Martin Still and wife, Hallie Murkerson Still; Marcia June Still Jones; Harold Wayne Still and wife, Veronica Bock Still; Ronald Mosely "Ronnie" Still and wife, Sharon McClenny Still, all of Blakely. Sister, Lucy Ann Still Reese and husband Randall
"Randy" Reese of Dublin, GA. also survive. Mr. Still is survived by 12 nieces and nephews and a large extended family of great-nieces and nephews and cousins.
Dearest friends, Howard and Alice Kimmelzen and Raymond and Diane Duncan, fellow members of his Mount Paran Church family, also survive and join his family in cherishing his memory and celebrating his homegoing. "And now these three remain: faith, hope and love. But the greatest of these is love." 1COR13:13
(NIV)

The family will receive family and friends on Sunday, December 30, 2018 at 2:00 o'clock in the afternoon in the Zion Freewill Baptist Church sanctuary prior to a 3:00 o'clock memorial service presided by Dr. Alex Howell. Interment in Zion Cemetery follows immediately after the service.

Those desiring, please make memorials to Tranquility Hospice at Kennesaw Mountain, 475 Dickson Avenue NW, Marietta, GA, 30064.

Services to the Still family entrusted to Mayes Ward-Dobbins Funeral Home and Crematory, Historic Marietta Chapel, Marietta, GA. Local arrangements entrusted to Manry-Jordan-Hodges Funeral Home, Blakely, GA.
Condolences for the Family of Daniel Still
---
| | |
| --- | --- |
| 128 | Days until next birthday (3/31/2019 or 31/3/2019) |
| 237 | Days since previous birthday (3/31/2018 or 31/3/2018) |
| 327 | Day of the year passed on |
| 38 | Remaining days in the year |
| 72 | 11/23/2018 (11 + 23 + 20 + 18) |
| 77 | Years lived |
| 28361 | Total days lived |