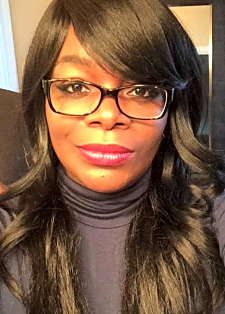 Chaka Shanna Richard
February 13, 1979 ~ July 30, 2021 | 42
Chaka Richard
Funeral service for 42 year old Mrs. Chaka Shanna Edwards Richard of Mansfield, Texas formerly of Clarksville went to be with her Lord, July 30, 2021 in Mansfield, TX, will be Saturday, August 7, 2021 at 11:30 am Zion Traveler Baptist Church, 501 S. Walnut St., Clarksville, TX with Rev. Willie Coulter, eulogist

Under the direction of Citizens Funeral Home, 500 E. Church St, Clarksville, TX. Condolences may be made at www.citizensfuneralhome.com.

Viewing will be Friday, August 6. 2021 from 4-6 pm at Citizens Funeral Home Chapel.

PLEASE WEAR A MASK FOR SAFETY.

Humble Beginnings:
​On February 13, 1979, a beautiful baby girl was born as the middle child to Janett Lavern Edwards and H.D. Doolittle in Paris, Texas by the name of: Chaka S. Edwards.

Chaka's Early Years:
At a young age Chaka was given back to God through baptism at Pleasant Hill Baptist Church under the leadership of Rev. Neal. Mrs. Chaka grew up in Clarksville, Texas with smartness, wit, intelligence, and ambition to want more out of life. Once of her many goals was to become an Executive Director before the age of 40, and to make a better life for herself and family, whether monetary or a closer spiritual connection with God.

Education:
Chaka is a 1997 graduate of Clarksville High School. She began her higher education career at Stephen F. Austin University in Nacogdoches, Texas, and at the beginning of her sophomore year she transferred to the University of Texas in Arlington, Texas where she completed her Bachelor of Finance in the Class of 2001.

Chaka's Legacy:
Chaka married her spouse Malcolm DeShaun Richard Sr. of Houston, Texas and to this beautiful union they bore two sons, Maleek Richard and Malcolm Richard Jr.

Professional Career
During her occupational journey, Chaka was employed 12 years at T.D. Ameritrade. During her expansion of time in this company, she wore many hats of leadership which included, Assistant Manager of Risk Management Group, Team manager, Learning and Development Manager, Senior Manager, New Client Development Groups, and Senior Manager of Investment Portfolio/Management Services. In 2019 to the present, Mrs. Richards left T.D. Ameritrade and became an Executive Director, Remote Advice and Site Lead at the now J.P. Morgan Chase & Co. During her executive climb one of her most contingent goals were to incorporate more people of color into higher executive positions in Corporate America.

The Legacy Continues…
Though her journey on this side may have been short lived, she was able to fulfill all her goals, as becoming an executive leader by the age of 35, and the self-satisfaction of knowing her family was well taken care of. Chaka was greeted at Heaven's Gates by her dear mother, Janett L. Edwards.

Chaka leaves many loved ones behind to carry on her legacy; her husband, Malcolm Richard Sr.; two sons, Maleek Richard and Malcolm Richard Jr.; father, H.D. Doolittle; sisters, LaKeisha (Michael Sr.) Edwards Turner and NaKimberly (Cedric Jackson) Edwards; special sister/cousin, Wylonna (Kenny) McCulloch; nieces and nephews, Au'Tyana Turner, Kyrie King, Michael Turner Jr., Nakylah Black, Jacob Richard, and Joseph Richard; along with a host of aunts and uncles, cousins, special friends and extended family.
Cemetery
Thompson Townes Cemetery, Clarksville, TX
Condolences for the Family of Chaka Richard
---
| | |
| --- | --- |
| 198 | Days until next birthday (2/13/2022 or 13/2/2022) |
| 167 | Days since previous birthday (2/13/2021 or 13/2/2021) |
| 211 | Day of the year passed on |
| 154 | Remaining days in the year |
| 78 | 7/30/2021 (7 + 30 + 20 + 21) |
| 42 | Years lived |
| 15508 | Total days lived |