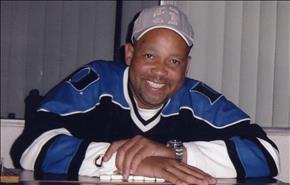 Brian Keith Beal
October, 17 1962 ~ November, 03 2017 | 55
Funeral Service for 55 year old, Mr. Brian Keith Beal of Clarksville, TX who went to be with his Lord November 3, 2017 in Clarksville, TX, will be Saturday, November 11, 2017 at 3:00 pm at Citizens Funeral Home Chapel, 500 E. Church Street, Clarksville, TX. Interment: Martin Shiloh Cemetery, Clarksville, TX with Dr. L.E. Cole officiating.
Under the direction of by Citizens Funeral Home, 500 E. Church St, Clarksville, TX. Condolences may be made at www.citizensfuneralhome.com.

Mr. Brian Keith Beal was born October 17, 1962 to Chester Ingram and Virginia Beal in Clarksville, TX. Brian accepted Christ at an early age at Martin Shiloh Baptist Church. He graduated from Avery High School in Avery, TX. He moved to Los Angeles, CA. Brian attended Irvine California University and majored in Education. He retired from teaching and later returned to Clarksville, TX. He loved basketball, dancing and spending time with family and friends.
He was preceded in death by both parents and brother, Cedric Ingram.
He leaves to cherish his memories…….
Sons: Ronald Beal and Quinton Beal of Los Angeles, CA
Sisters: Mary Hawkins of Mesquite, TX
Sharon Edwards (Denitra) of Mesquite, TX
Vanessa Mims (Joseph) of Plano, TX
Angela Ingram of Virginia
Brothers: Gary (Helen) Beal of Ada, OK
Malcolm (Evelyn) Beal of Idabel, OK
Bradley Mims of Idabel, OK
Richard (Lashanda) Mims of Dallas, TX
Darryl (Mellissa) Ingram of California
Charles Ingram of California
One grandchild, a host of nieces, nephews, and other relatives and friends.
Cemetery
---
Martin Shiloh Cemetery, Clarksville, TX
Condolences for the Family of Brian Beal
---