Billy Stanley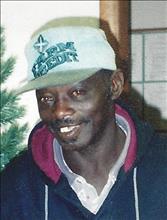 Funeral services for Mr. Billy Stanley, Jr., of Montrose, Georgia, will be held on Saturday, November 20, 2013 at 2 PM at the Eason Hill Baptist Church, 2022 Eason Hill Church Road in Montrose. Burial will follow in the church cemetery. Reverend Malcom Thomas will deliver the eulogy.

Mr. Stanley, who passed away on November 27, was born on January 16, 1955, to the late James and Doris White in Montrose. He joined Macedonia Baptist Church at early age, attended West Laurens High School, and worked on the farm for many years. He later became a deacon at the Eason Hill Baptist Church. He was a mason.

Mr. Stanley was preceded in death by a stepson, Jamie Nelson, a brother, Jackie Stanley, and grandmother, Lumus Stanley.

He leaves to cherish his loving memories a loving wife, Ida Stanley of Montrose, seven step-children, Brenda Combs of East Dublin, Dorothy Nelson, Toylee Nelson, Ida Nelson, Linda Walker, all of Dublin, Ronnie Nelson, Lorenzo Nelson of Montrose, four loving sisters, Gussie Ashley, Deloris (Melton) Jones of Dudley, Dorothy (James) Ogburn, and Patricia (Eugene) Williams of East Dublin, one brother, Clayton Stanley of Dudley, twenty grandchildren, twelve great grandchildren, six sisters-in-law, Shirley (Walter) Blash of Montrose, Della Slaughter of Dublin, Catherine Combs of Chester, Lucille (late Charles) Whipple of Danville, Eldora (Clinton, Jr.) Whipple of Chester, and Cynthia Stanley of Dudley, and two aunts, Lorrine Simms of Daytona, Florida, and Elizabeth Jones of Dudley, a host of nieces, nephews, cousins, and caring friends.

The family will receive friends at 1739 Third Street in Montrose.

Services by Dudley Funeral Home of Dublin
Post condolences at www.ServicesByDudley.com.
Dudley Funeral Home posted Billy Stanley Obituary on Thursday, November 28, 2013