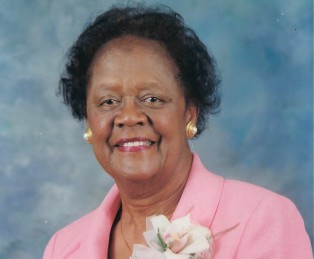 Arves Woods Mccall
April 01, 1935 ~ May 12, 2019 | 84
Arves Mccall
Funeral Services for Mrs. Arves W. McCall, of Dublin, will be held on Friday, May 17, 2019, at 1:30 PM at the First African Baptist Church, 405 Telfair Street in Dublin. Reverend E. Neal Dixon will officiate. Burial will follow in the Dudley Memorial Cemetery.

On April 1, 1935, in Lagrange, Georgia, God saw fit to give to the world Arves Lester Woods. She was born to the parentage of Roscoe Woods and Lillian E. Woods. She was affectionately known as "Granny" not only by her grandchildren, but by everyone.

Mrs. McCall received her early spiritual training and nurturing at McGhee Chapel A.M.E. Church, founded by her great-grandfather, Elijah McGhee. Mrs. McCall was educated in the Troup County Public School System. She graduated in 1953 from West End School of Hogansville. She went on to attend Morris Brown College in Atlanta on an A.M.E. scholarship. While in college, to gain work experience, she worked at Crawford Long Hospital, now Emory Hospital. In 1957, she earned a Bachelor of Science Degree in Elementary Education. While there, she pledged Sigma Gamma Rho Sorority, Inc. She furthered her education with coursework at Peabody College, Nashville, Tennessee, and Fort Valley State College, Fort Valley, Georgia. After graduating college, she began her teaching career with the Putnam County Public Schools in Eatonton. It was here that she met her future husband. Of all her successes in life, one of her greatest was her marriage to Walter E. McCall. They wed on February 21, 1959. To this union two beautiful children were born.

Mrs. McCall's career as an educator in Laurens County began at B.D. Perry School in East Dublin. She then went on to teach at Millville School for a short time, and later Mary Fleming on the southside of the county. Retiring from Northwest Laurens Primary in Dudley after 36 years. Mrs. McCall's love, value, and dedication to the education of young minds gave her the drive to continue teaching five additional years at the collegiate level, at Middle Georgia College, Dublin Center, Dublin.

Through the years, her life represented service to her children, her church, and her community. Until her health declined, she was an active and dedicated member of Saint Paul A.M.E. Church, Dublin. She served as a trustee, a class leader, conducted children's altar call, chaired several Women's Day programs, and was always a willing supporter of any and all activities at St. Paul. She served on the Habitat for Humanity Board for ten years, and as the chairperson for two. Also serving for nine years on the Easter Seals of Middle Georgia Board. Mrs. McCall was the founding member of Sisters of the Heart, a cancer support group. She was a member of The Unique Progressive Society and the Dublin-Laurens Retired Teachers Association. She was known for spending countless hours in her kitchen baking cakes, treats, and homemade meals seasoned with love. On Sunday, May 12, 2019, Mother's Day, she departed this life to reunite with her children, the late Monique McCall-Blue and the late Jarvis E. McCall.

Mrs. McCall leaves this life to join in eternal rest with her parents, Roscoe and Lillian E. Woods, her aunt and uncle, Ceola McGhee Griggs and Julius Caesar McGhee her loving husband of nearly 53 years, Walter E. McCall, and her aforementioned daughter and son. She was a woman of virtue, style, and grace, who was loved by all and who will be missed by many.

Mrs. McCall leaves to cherish her memory her grandchildren, Victoria E. (Isac) Nunez of Dublin, Kethen Alexander Hollings, Kerry Michael Blue, Branden Edward Hughes, all of Columbus, Devona Denee' Watson and Andru Thomas Watson both of Rentz; daughter-in-love, Bronwyn McCall Hughes of Columbus; brother-in-law, James Robert McCall, Jr. of Suisun, CA; great-grandchildren, Journee Lillian-Monee' Washington, Corey Zion Elijah Washington, Jourdyn Ashleigh McCall Washington, Joia Sarah-Kaylyn Washington all of Dublin, and Zion Emmanuel Nunez-King of Greer, South Carolina; godchildren, Dru H. (Malva) Watson of Rentz and Jeremy Irwin of Savannah; her "Girls", Meardith Pooler-Burgess (Demetrick) of Tallahassee, Florida, and Kesla M. Holder of Dublin; a devoted friend, Verline P. Copenny of McDonough; and a host of loving relatives and friends.

Please post condolence at ServicesByDudley.com.
Services by Dudley Funeral Home of Dublin.
Cemetery
Dudley Memorial Cemetery, East Mary Street, Dublin, Georgia
Condolences for the Family of Arves Mccall
---
| | |
| --- | --- |
| 325 | Days until next birthday (4/1/2020 or 1/4/2020) |
| 41 | Days since previous birthday (4/1/2019 or 1/4/2019) |
| 132 | Day of the year passed on |
| 233 | Remaining days in the year |
| 56 | 5/12/2019 (5 + 12 + 20 + 19) |
| 84 | Years lived |
| 30722 | Total days lived |