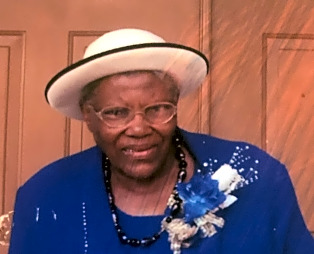 Annie L. Ford
January 04, 1920 ~ March 10, 2020 | 100
Annie Ford
Funeral services for Mrs. Annie L. Ford, of Adrian, Georgia, will be held on Saturday, March 21, 2020, at 2 PM at Greater Victory Temple, 511 North Franklin Street in Dublin. Pastor Prenis Edmond will deliver the eulogy. Interment will follow in the Adrian City Cemetery.

Annie L. Ford, born on January 4, 1920, was raised in Adrian where she attended Adrian public school. She joined Adrian Chapel Methodist Church at an early age. She was very faithful and a willing worker. Give Sister Ford the job and she will get it done. She loved the Lord with all her heart and mind. She loved helping people, feeding people and praying for people. In 1940, she married John D. Williamson, Sr., and moved to Dublin. She joined Jackson Chapel CME Church on Gaines Street where she worked faithfully for 27 years. She was on the Usher Board. She moved back to Adrian to take care of her parents. She would also sell boiled and roasted peanuts on the streets of Dublin and Adrian; the children would say "Here comes the Peanut Lady!" She would always use the money for the House of the Lord where it was needed. Sister Ford passed away on March 10, 2020. She will be missed in Adrian and Dublin; we have lost a faithful Legend.

Annie L. Ford was preceded in death by her parents, William and Lula C. Ford, husband, John D. Williamson, Sr., daughter, Corine Williamson Hines, son, Eugene Dixon, John D. Williamson, Jr., granddaughter, Martha Jean Axson, sisters, Mildred Green, Eula Mae Miller, and Clementene Ford, and by a brother, William Ford, Jr.

Mrs. Ford leaves to cherish her memory her grandchildren, Kathy (Pastor Prenis) Edmond of Rentz, Sonja Hines of Adrian, Teresa (Albert) Clayton, Wanzy Axson, Tony D. Hines of Dublin, Jarvis T. Worthen of Columbus, Nancy Smith of Nashville, Tennessee, Karla (Flint) Garrett of Moody, Alabama, Sha'ron Williamson (David, Jr.) Russell of Fayetteville, Georgia, daughter-in-law, Olivia Williamson of Birmingham, Alabama, eighteen great-grandchildren, thirty great-great grandchildren, five great great great-grandchildren, and a host of nieces, nephews, cousins, other relatives and friends.

The family will receive friends at White Grove Baptist Church, 21 East MLK, Jr., Drive, in Adrian on Friday, March 20, 6-8 PM. Please post condolences at ServicesbyDudley.com.

Services by Dudley Funeral Home of Dublin.
Cemetery
Adrian City Cemetery, Adrian, Georgia
Condolences for the Family of Annie Ford
---
| | |
| --- | --- |
| 300 | Days until next birthday (1/4/2021 or 4/1/2021) |
| 66 | Days since previous birthday (1/4/2020 or 4/1/2020) |
| 70 | Day of the year passed on |
| 296 | Remaining days in the year |
| 53 | 3/10/2020 (3 + 10 + 20 + 20) |
| 100 | Years lived |
| 36591 | Total days lived |